These were our most popular videos of 2018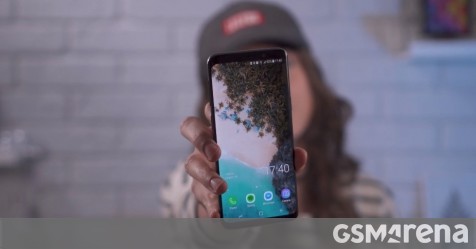 In the last few days in 2018 we take a look back and see what we have achieved in the last 12 months. Much thought and hard work went into our YouTube channel, so we decided to share the most popular videos of the year.
Samsung introduced the Galaxy A8 (2018) early in the year, and it has been seen and enjoyed many times. No wonder it has accumulated over a million views with its high Infinity Display and properly positioned fingerprint scanner.
The Galaxy S9 + flagship is a huge improvement over the Galaxy S8 + with its dual camera – a variable aperture shooter and another with a telephoto lens. Combine this with a clean user interface and slim look, and you have a different phone, collecting many views, likes and comments.
The Huawei P20 series was so successful for the company that surpasses Apple as the second largest smartphone manufacturer in the world. No wonder the Huawei P20 was so successful on our channel.
The Huawei P20 Pro was introduced in March as the first smartphone with three cameras. It is still one of the better friends in the market, even though we mentally prepare the P30 series at MWC 2019.
Video review of the third P20-named device has also received a lot of engagement and why wouldn't it? Huawei P20 Lite has the great look of its larger brothers, but with a much cheaper price tag.
HMD Global introduced Nokia 7 Plus at MWC 2018 in Barcelona. As we established in the written review, it brings a lot of flagship experience without costing flagship money.
Xiaomi dominated the mid-sized market all over the world, but our YouTube audience had their eyes on the Mi 8 review.
Then there is another Snapdragon 845 powered phone by Xiaomi called Pocophone F1. You're fond of discussing this phone – the video has by far the most likes and comments on our YouTube channel for 2018.
The Xperia XZ2 came as a break from the OmniBalance design, and you really wanted to see what the Japanese company had instead of the blocked units it introduced for many years.
Oppo has established itself as a major player in the smartphone market, and one of the more popular videos on our channel was the Oppo F9 review. It's actually the first phone in the world with a watedrop notch, which gets a much warmer reception than the usual wide cut.
Sometimes we cross the spice on our channel with long-term reviews, and you seem to love it, especially what Angie had to share about her experience with the Samsung Galaxy S9 after spending three months on the phone.
And since we pack in 2018, our 2018 Buyer's Guide is. We separated the phones into four price ranges to make it more affordable. There is something for everyone, so go check out the video.