The magic of Harry Potter continues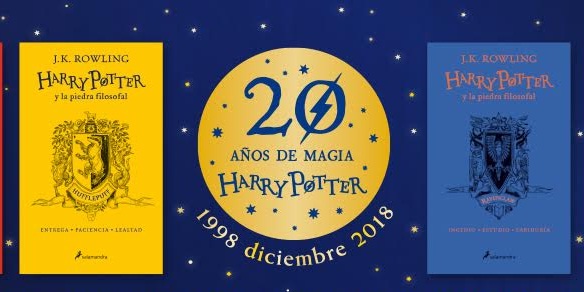 On December 1, 1998, the first book of the most famous magician in literary history was Spanish: Harry Potter. While "Harry Potter and Philosopher's Stone", by J.K. Rowling was published June 26, 1997 in London. The Spanish-American readers had to wait a while for Ediciones Salamandra to publish this amazing saga, which has become a classic with over 500 million copies sold worldwide, without forgetting movie adaptations that were also a box's success.
The story of an orphan living with uncles changes the day he receives a letter informing him that he is accepted as a student at Hogwart's magic and magic arts school. There, Potter will learn to be a true magician, but also the value of friendship and courage, when he has to face his terrible enemy, Lord Voldemort.
Utilizing the anniversary, Ediciones Salamandra also launched four new editions of the book "Harry Potter and Philosopher's Stone" in Spanish-speaking countries, one for each house at Hogwarts. Each of these, in addition to the full text of the novel, contains additional material (unpublished) where the origin of each house is explained.
A fairy tale still posed by academics and intellectuals; However, he placed children's and youth literature ahead of time, which was abandoned at that time by the publishing industry, and also invited readers to discover other writers of the fantasy genre such as Charles Dickens and J. R. R. Tolkien. In 2012, Rowling asked the question that if it was trying to be Dickens of his time, he told the BBC the following: "Again I think it's curious to be me because everything was random and when you were successful, people assume that So there are no motivational posters on my wall saying "Be the next Dickens", well, he is Dickens. It would be too pretentious to say that. You have to give him credit and then continue.
On the other hand, it is worth remembering how important Harry Potter has been in the author's life, since he somehow saved her from poverty and her tragic reality: "I was saved by the pure the first book. They always tell me The world I invented is unreal, that was what helped me avoid, yes, it is true, it is unreal to a point, but not because my world was magical, but because all writers are avoiding. To avoid myself, but because I wanted to clarify myself with issues that worried me. Questions like love, loss, separation, death … And all that is reflected in the first book, Rowling told the Spanish newspaper "El País" for ten years ago.
Thus, the Harry Potter Saga refuses to grow old and remains captivating for young and young readers who in fantastic literature found a pleasant way to enter the wonderful world of books.