Royal wedding: Princess Eugenia and Jack Brooksbank release official photos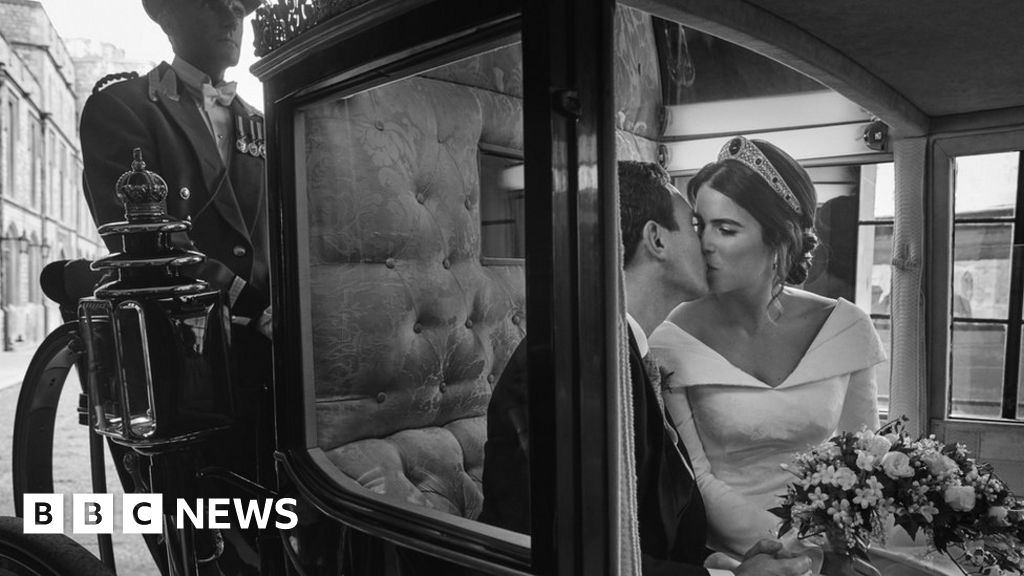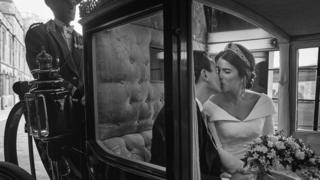 Princess Eugenie and Jack Brooksbank published four official photographs of their wedding day.
The photos, taken by photographer Alex Bramall, include a black and white image of the couple who share a kiss during the procession of the carriage.
Another shot captures the ninth row of the throne in a silk dress by Zac Posen as she heads to the evening reception with her new husband.
It is said that the couple is "happy" to share the images.
Eugenie married her long-term partner in front of her grandparents, the Queen and Prince Philip, as well as other family members at Windsor Castle on Friday.
The Duke and Duchess of Cambridge and the Duke and Duchess of Sussex also attended the service in the chapel of St. George.
Celebrities, including Robbie Williams, Demi Moore and Cara Delevigne, were among the 850 guests in the chapel when the couple exchanged vows.
The wedding was seen in an extended episode of ITV's This Morning by an average of three million people, which gave the channel its best ratings for the time slot since the marriage of William and Kate in 2011.
Another official photo of the bridal party captures a radiant Prince George with his sister, Princess Charlotte, while Mr. Brooksbank rests his hand on the shoulder of Theodora, the daughter of Robbie Williams and Ayda Field.
A group photo taken at the White Drawing Room in Windsor shows the families of the couple.
The mother of the bride, Sarah, Duchess of York, is next to a seated Duke of Edinburgh, with his ex-husband, the Duke of York, on the other side.
A fourth image reveals the smiling newlyweds in their evening gowns before a private dinner at the Royal Lodge in Windsor Great Park on Friday night.
According to Buckingham Palace, Mr. Posen was inspired by the beauty of Windsor and the surrounding countryside and the blush of an English rose.
The plisse topped with pins is cut in the bias and mixed with the firm's curtains, and the White Rose of York is embroidered with subtlety both on the shoulder and on the back, keeping the cloak together.
The silk for the dress came from Biddle Sawyer Silk, said the palace.
Eugenie launched her evening look with earrings of diamonds and emeralds, a wedding gift from the groom, and a diadem belonging to the Queen.
British photographer Mr. Bramall said it was "an honor and a privilege" to be invited to photograph the couple.