Marcelo, now at RTP. One minute with Tania Ribas de Oliveira at Roberto Leal
After participating in the TVI and SIC entertainment programs, the President of the Republic registered a message about Brazilian singer Roberto Leal for the afternoon program RTP1.
The announcement, with about a minute, goes on the air this Wednesday in the Agora Nós program, presented by Tânia Ribas de Oliveira and José Pedro Vasconcelos.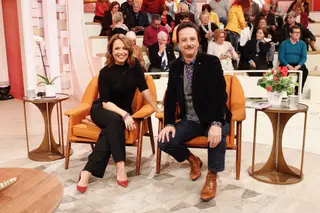 The difference is the relationship between Portugal and Brazil – Roberto Leal is Brazilian but has lived in Portugal for years – and also the singer is ill, which has motivated tribute in several television channels.
The presence of the president on public television follows the interview he gave to Manuel Luís Goucha, from TVI, on Christmas Eve. And the phone call she made for Cristina Ferreira's new tomorrow on Monday at SIC, which puts the hostess to tears.
Speaking to Lusa, Marcelo Rebelo de Sousa made a point of explaining himself. He recalled that he gave an interview with Manuel Luís Goucha "on Christmas Eve who lived for 25 minutes," and declined to compete with TVI and SIC's entertainment programs.
"I have a friendship with her (Cristina Ferreira), I gave the first interview in her magazine. Don't go to the program or have an interview with her, it was the least wish she was lucky. Today is RTP today.