Golden Globes: A blue dress model that shone brighter than the actors
Glenn Close, Lady Gaga, Rami Malek or Alfonso Cuaron? Who was most successful on the Golden Globes treadmill? The girls in the water Fiji. The amount of tweets that went into the cyber world with the images of the stars in the cinema and television had a constant presence: a girl with a blue dress, holding a tray of bottles of brand Fiji.
The model, called Kutheth Cuthber, was one of the most assiduous in the photos and became known as "Fiji Water Girl".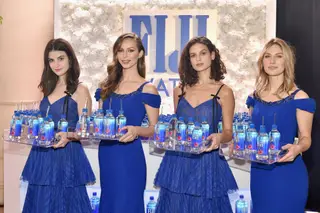 But in these things, there is always one, but it seems that now only web users have noticed the presence of the brand – which is the official sponsor of the Golden Globes – and of the girls who usually work on those events, or, Fiji Waters and the models that have been working on it for more than a decade are countless in delivering Hollywood band prizes.
Kelleth, a resident of Los Angeles, was just one of the contractors of the Golden Globes ceremony – there were others, even in a blue dress – and she was always in the right place to appear in celebrity photos.
Thus, as of the beginning of December, other models of Fiji waters emerged in the artist's pictures on the Billboard's Women in Music show.
Or in 2012, on the Mercedes-Benz fashion week, they were on the picture of actress and singer Taylor Momsen.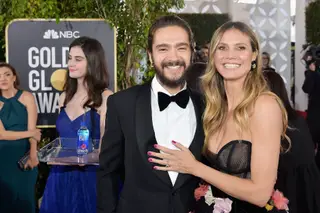 For those distracters who have now noticed, Fiji wrote in a statement: "For more than a decade, Fiji Water has been proud to be present at major events, including awards, international film festivals and film premiere."
If you have noticed now, you can continue to be aware of upcoming events as the year has hardly begun. Or the photographers will take extra care when looking through the viewfinder on their machines.