Everyone celebrates the secret star of the Golden Globes – not us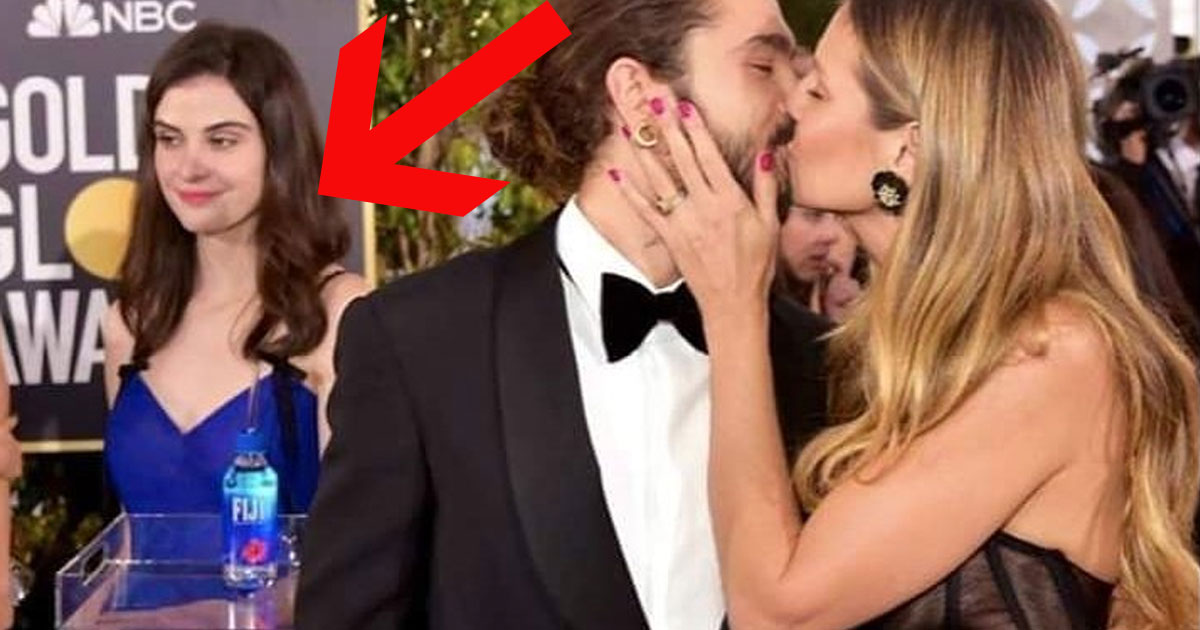 The negative highlight of this year's Golden Globes was neither a movie nor a celebrity or even his outfit – but a model that served water from the Fiji Water mark on the red carpet. Why is it quite problematic.
On Sunday, a model made it famous in a few hours: Kelleth Cuthbert served the Fiji Water brand at the Golden Globes ceremony. She has – sneaked by the photographers apparently unnoticed – on dozens of celebrity photos. Photobombing is called it in the United States. Has the model simply positioned itself well – or is it a sophisticated PR action of a questionable brand behind it?
Fiji Water destroys the environment
According to the manufacturer, the mineral water Fiji Water comes from a groundwater source under the island of Viti Levu, Fiji's largest island. The company praises its product as particularly healthy and tasty because it spreads from pristine human civilization to untouched nature.
This creates a harmonious image in front of the consumer's eyes. In fact, according to environmentalists, the company behind Fiji Water destroys what was originally untouched nature and exploited the island's water resources.
Fiji-Girl: A questionable hype in social media
Unfortunately, there is hardly anyone interested in these devastating practices: In social networks, the model with its tray full of Fiji Water Bottles is currently a big hype. Uninterrupted, new memes pop up, showing the smiling model in the background serving Fiji Water. Here are some pictures on Twitter:
Many users explain "Fiji Girl" to a new style icon or celebrate it as it appears persistently on each image being followed. A Twitter user wanted to award Kelleth Cuthbert even the Golden Globe for the foaming photobombing.
Water is not a lifestyle product!
But we do not think it is scary that the model of Fiji water bottles appears on dozens of celebrity photographs – but that it is the current face of a wasteful industry that destroys the environment to create stink-normal water as a lifestyle product.
"You don't have to be perfect to be healthy," Fiji Water's message is, "Try to change simple things – not to dehydrate, with Fiji water".
Absorb product is affordable for everyone
It is not surprising that the product will be distributed at an event such as the Golden Globes. It is doubtful anyway – and also quite sad, because no one points to the absurdity of Fiji Water: celebrities drink this seemingly special water mapped over a distance of 8,000 kilometers (!) To Los Angeles, just so they "do not dehydrate"
And that's not all: many people serve these stars as role models. Fiji water is reasonably priced for everyone in the supermarket. The imitation effect should be similarly high.
Even more Water that damaged common sense
Better: Drink tap water
Instead, we recommend: tap water. This is not only more practical, it also saves material (especially polluting plastic), transport routes and a lot of money: at best, you get discourses for a dollar of about 7 liters of water. For the same money, there are 200 liters of tap water, which is the most controlled food in this country, and can initially be consumed without hesitation (more about it and about exemptions like old pipeline).
Read more at Utopia.de:
Do you like this post?
Thank you for your vote!