Saudi singer Abdul Majeed Abdullah and Balqees, son of singer Talal Salama, who died yesterday.
The singer Abdul Majid Abdullah expressed condolences over death to the son of the singer Talal Salameh, saying: "My sincere condolences to our beloved Abu Mohammed Talal Salameh about the death of his son Ahmed. We praise God Almighty to give the deceased mercy and comfort."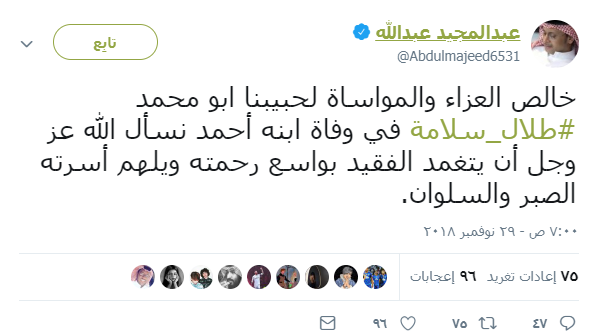 Abdul Majid Abdullah
The artist Balqees expressed his sorrow for the death of the son of the artist Talal Salama, saying "My sincere condolences to our brother Talal Salama in his precious fat Ahmed, I pray God to embrace the grace of the heart and to tie the hearts of his parents, Oh God. "
Balkis
According to the media, the son of singer Talal Salama had been involved in an accident for 8 years, after which he went into a long coma.