Adamari López breaks down while describing the condition she suffered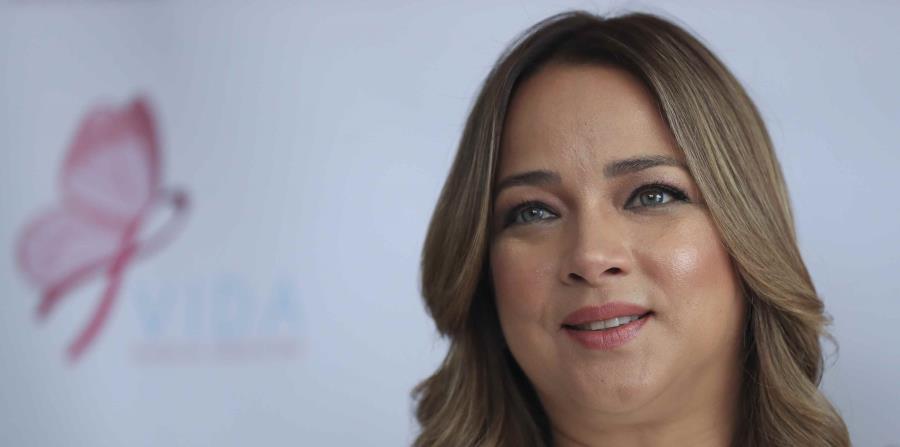 The actor Adamari López She is already recovering from the flu who kept her out of her work as the host of the "Un Nuevo Día" program.
Today, when she returned to the program, Puerto Rican talked a lot about her health condition and all the emotions that grabbed her during her convalescence.
Lopez said a friend named Bibi took her to the hospital while her sister Adalyn, who was at home, stayed behind to take care of her daughter Alaia.
"Bibi took me to the hospital and I remember coming to the hospital. From then on I do not remember anything up to four to five days before going to the hospital. It had been almost 4 weeks," said the actress, unable to to contain the crying.
When asked what his diagnosis was, López said "What they tell me is that they diagnosed me with toxoplasmosis, but that was not the main reason I had a flu, it had been too long, the lungs were compromised, I couldn't breathe, and it seemed like they were treating one patient with AIDS and with a disease terminal".
"I had a sedation that I don't remember what happened. There are things in video that Toni holds … I was apparently pretty delicate, I didn't realize that a flu could take me to a critical state when I arrived, I saw it when my family and friends explained me when I saw the videos and pictures He didn't recognize me. After living cancer, their face broke on my heart, it was super difficult and very difficult to understand what that process was. "
When she woke from her state, the actor just wanted to meet her family.
"The first thing I see is the picture of my daughter in front, with a wall of many cross colors, with many pictures of Alaia's friends who had painted me, and I just thought, get me out of this, Papa Dios. Get me out of this, So I can be with my daughter. That was the only thing I asked for. That was the only thing I wanted to be with my daughter and my family. "
Today Lopez resumed her role as presenter in the program that Telemundo sends on Monday.
It was December 21st Lopez announced the date of his return from the break ordered by his doctors to recover from the condition who kept her hospital for a while and then at home.
During the time outside the cameras, the audience did not lose the ability to show their love and wanted him a quick recovery.
Today, the program made a video of López's start of the day on its Instagram account. He shows that her daughter Alaia wakes her up with a speaker. Then prepare a breakfast of "waffles" with whipped cream and instruct it: you eat everything.
Mother and daughter also chose today's broseau, in a "pink" tone. Already ready to work, the actor hurried into a pram.
Also on Instagram, the program is published in its Insta Story, under the hashtag "AdaRegresa", López's message that he is returning and welcoming messages from other artists.
"Hello my nice people, it's good to greet you and remind you that this is coming January 7, I'll be back to Un Nuevo Día. I'm going to be close to you every day, so I'm waiting for you since 7. January, and we have many surprises over you. "
The condition of health influenced the actors' lungs, so she needed physical and respiratory treatment to regain health.
Lopez was able to enjoy Christmas as a family, seen in his Instagram post.