a punch realization at the hospital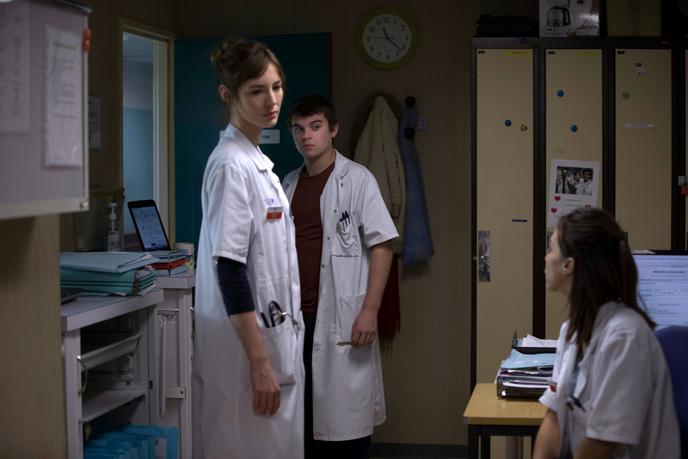 Canal +, Monday, November 26 at 9:09, series
The hospital series is legion and if we did not know that Thomas Lilti adapted Hippocrates from his movie with the same name, released in 2014, we can take it a priori for another and not necessarily useful abbreviation of the genre. On the contrary, the series version of six episodes of almost an hour is important as a real renewal, served by a realization "blow" that leaves the viewer groggy but moved.
On the first day of internship at the hospital, two young interns find beginners (the duo formed by Zacharie Chasseriaud and Alice Belaïdi) more or less delivered to themselves: Most of the institute's head of department is quarantined because of possible infections and nurses are overwhelmed.
On their side, a more experienced intern (Louise Bourgoin, amazing in what could be her best role) and a young doctor of Albanian origin, sent from forensic service to help repair the living. Karim Leklou composes with an astonishing presence this role of this man abused by heavily agreed melancholy. The situations and grades in the series are related to the movie, but renewed and in larger numbers. The actors are different, with the exception of the nursing nurse, played in the movie by Sylvie Lachat – presented in all director films – an amazing "truth" game.
Lekts kamera (born 1976, which was a doctor until 2014) films patients with as much empathy as i Field doctor (2016) and is much more interested than in the movie in the intimate life and conditions of the young doctors without the anecdote going to take the forefront.
Nothing of an "elongated" movie
Among the new characters that illuminate and enhance the original film, we note the role that the old leader calls for rescue, which compensates for his lack of knowledge of new medical practice with a feeling, a memory and a life-saving experience. Jackie Berroyer embodies it in a fair and moving manner. The arrival of his character revives the effect of a series that has nothing of a movie "elongated" but supports the dramatic feathers of the genre. It should be noted that the end of the last episode, again in dramatic excitement, opens the way for another season as the stakeholders ofHippocrates.
This series makes a reckless and sometimes terribly disturbing statement about the institution's fragile condition and hospital staff
Another topic discussed is gender distribution of "F to M", that is, women become men, as Lilti treats almost exclusively clinically. But everyone will understand, for the price of disturbing images and thanks to the strong incarnation of transcendent Shawn Delair, that this road from one genre to another is not a behavior.
This series makes a reckless and sometimes terribly disturbing statement about the institution's fragile condition and hospital staff. Despite almost unbearable scenes, the line never seems to be forced. It is thanks to strength, subtlety and profound humanity with purpose, play and realization, which doesHippocrates a masterpiece of its kind.
Read the review of "First Year":
Do medicine, get sick
Hippocrates, series created and directed by Thomas Lilti. With Louise Bourgoin, Géraldine Nakache, Alice Belaïdi, Zacharie Chasseriaud, Anne Consigny, Jackie Berroyer, Karim Leklou, Sylvie Lachat, Eric Caravaca (Fr., 2018, 8 × 52 min). www.mycanal.fr